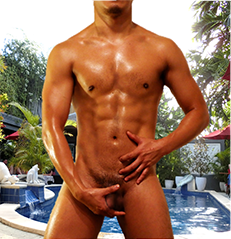 Satyroi provides a relaxing and erotic refreshing Balinese massage for men through our gay therapists.
We offer services to gay, bisexual, married men interested in men as well as those men who are inexperienced.
Our therapists offer original treatments maximizing the feeling of pleasure and relief by utilizing their experiences in working at Balinese massage parlors, Thai ancient massage parlors as well as the knowledge gained through research in neuroscience and brain science.
The treatment delivers the peak physical and sexual pleasure through you the practice of Balinese style oil massage and foot reflexology.
By vigorously teasing your cock without stopping, you will establish a sexual connection with our therapists and achieve the release that your body is looking for.
As you continue on your pleasure journey, you will edged repeatedly maximizing your climax. Our aim is to please the hard working man who needs sexual pleasure and healing.
※In our shop, although touching is permitted, we are prohibiting contact between mucous membranes and exchanging of body fluids in order to prevent health-related hazards.
The treatment is a shiatsu treatment done slowly and elaborately but vigorously for swelling, muscle fatigue, and stiffness along the flow of muscle and lymph nodes using the thumb, fist, arm, etc, while at the same time caressing the whole body, nipples, ears, penis, and crotch, as well as occasionally invading the penis while interlocking fingers with sudden pauses,finally leading to ejaculation.
Using the oil and the right movements in massaging the penis, we draw out pre-cum. As the treatment continues on for more than an hour, you will reach the limit of your sexual pleasure. When you have done so, the cum explosion will leave you with oil and cum covering your cock.
※ 60-minute Course: Hand and foot massage not included.
※ For the prevention of sexually transmitted diseases such as HIV,syphilis, gonorrhea, chlamydia, etc., any contact between mucous membranes (blowjobs, rimming, helmet matching, deep kiss) and exposure of semen on the mucous membrane is strictly prohibited!