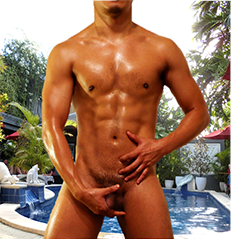 Satyroi provides a relaxation & erotic refresh Balinese massage for men through our gay therapist.
We offer services to gay and bisexual, and married men who are interested in men as well as inexperienced men.
Our therapist offers original treatment maximizing the feeling of pleasure and relief by utilizing his experiences in working at a Balinese massage saloon and Thai ancient massage saloon as well as the knowledge gained through research on neuroscience and brain science.
The treatment reap the maximum massage feeling and sexual feeling out of you by practicing Bali style oil massage and foot reflexology vigorously and teasing your cock without stop while your body and the body of the therapist are attached to each other in naked, which would make you full of milk extract.
As continue to be fiddled, your cock would inevitably be on the verge of explosion although you are forced to stop right before repeatedly.
In order to support all the men who are working hard daily, we provide the extreme feeling of sexual pleasure and healing.
※ In our shop, although touching is permitted, we are prohibiting contact between mucous membranes and contact between body fluids and mucous membranes in order to prevent infections of customers and therapists.
The treatment gives Shiatsu treatment slowly and elaborately but vigorously for swelling, muscle fatigue, and stiffness along the flow of muscle and lymph using a thumb, fist, arm, etc, at the same time caressing the whole body, nipples, ears, paws, and crotch, as well as occasionally invading the glans while interlocking with sudden pause and fascination and finally it leads to ejaculation. Pre-ejaculatory juice juice from erected male unit is hard to be thirsted due to its oily feature and clings to the area around the glans.
As the treatment goes on for more than an hour to finger all the time,your paws reach to the limit to a bang! When you reach to the maximum horny level, the treatment is going to finish you with oil and milk extract sticking around your cock and make it exploded with the tremendous amount of Semen.
※ 60 minutes course: No hands and foot massage.
※ For the prevention of sexually transmitted diseases such as HIV, syphilis, gonorrhea, Chlamydia, etc., any contact between mucous membranes (blowjobs, rimming, helmet matching, deep kiss) and prohibiting the action of putting Semen and pat on the mucous membrane!